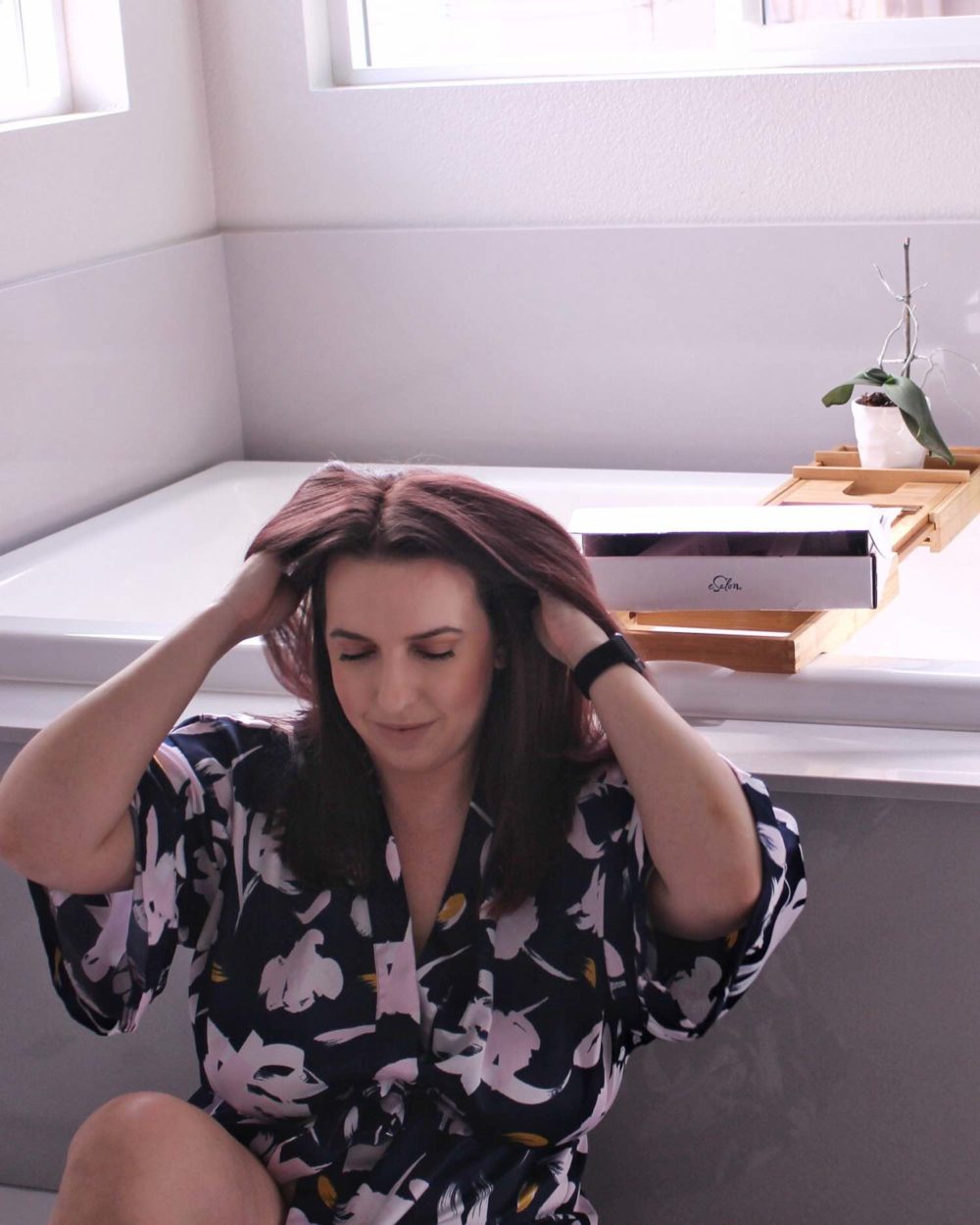 This year has a lot of us trying out our favorite beauty treatments at home. Whether it's to save money or stay safe, navigating all of the options can be hard to sift through. At home hair dye seems to be a common dominator and something a lot of people are looking for right now. Permanent hair color at home doesn't have to be scary! I used to rarely dye my hair at home but now it's one thing I see myself sticking with even after 2020 is over. It gets easier each time I do it and I've found a way to keep it minimally damaging. I've come a long way since dying my hair blonde with box dye in my early 20s!
If you're new to dying your own hair, allow me to share the 3 very best ways to achieve fantastic hair color at home. This list features the best at-home hair dyes, both hair color kits and box dye color that give great results.
eSalon
When it comes to at home color, eSalon is really queen! They develop custom made hair color for every single client to give them the most personal hair color experience that closely replicates exactly what a stylist would do in a salon. Pro colorists actually develop your demi or permanent hair color blend and give thorough step by step instructions on how to do it yourself. Last winter I dyed my hair a deep cherry chocolate brown which came out so pretty!
eSalon also offers all the tools and accessories you might need when coloring your hair at home, like mixing brushes, alligator clips, capes, and more. I'm also a huge fan of their shampoos! If you color your hair a lot, they have a new loyalty program with VIP benefits. Get 20% off color set on autoship and free shipping on orders of $40 or more, plus get a free color set after every 10 you buy.
Schwarzkopf got2b Metallics
If you're looking for a vibrant and punchy color that makes a statement, I recommend Schwarzkopf got2b Metallics. Last fall I dyed my hair ruby red metallic and I absolutely blown away with the color. I used 2 boxes on my long medium brown balayage hair which gave it incredible shine, dimension, and vivid color. Over the months following it faded out really beautifully to a smoky mauve pink. I was slightly nervous the dramatic switch to a bold color would be harsh on my hair. I was surprised that the formula wasn't damaging. But I always recommend when going for bold colors, try to stretch your hair between washing and reduce regular heat styling.
It was totally out of my comfort zone but I was craving a major change. I got so many compliments on this hair color! Schwarzkopf has recently expanded this line too, offering teals and other stunning metallic jewel tones.
Revlon Total Color
If you're looking for a gentle hair color that's easy on a sensitive scalp, try this new one from Revlon. It's a clean formula hair dye with plant based ingredients, like hemp seed oil, and 0% ammonia. This is the hair color I've used most recently to tone down the warm red brown tones in my hair and conceal my roots and grays. I used one box of shade 50 medium natural brown and my hair turned out so gorgeous and shiny! My hair looks and feels healthy. The finished result is also very close to my natural hair color. The best part is that the formula lacks that typical strong chemical scent most box dye has.
Additionally, the deep conditioning gloss that comes with Revlon Total Color is incredible. You get a huge tube that lasts for a while after you've dyed your hair. I stretched out using it for about 2 weeks! I'd say the gray coverage isn't as potent as eSalon's, but I also only used one box of color for my medium length hair. Two boxes seems to be the way to go if you have medium length or longer hair.

Not ready to dye at home? Check out my last hair post on how to conceal root regrowth and grays in seconds flat.
Like this post? Read through some of my other 80+ hair posts before you go. Happy hair coloring!