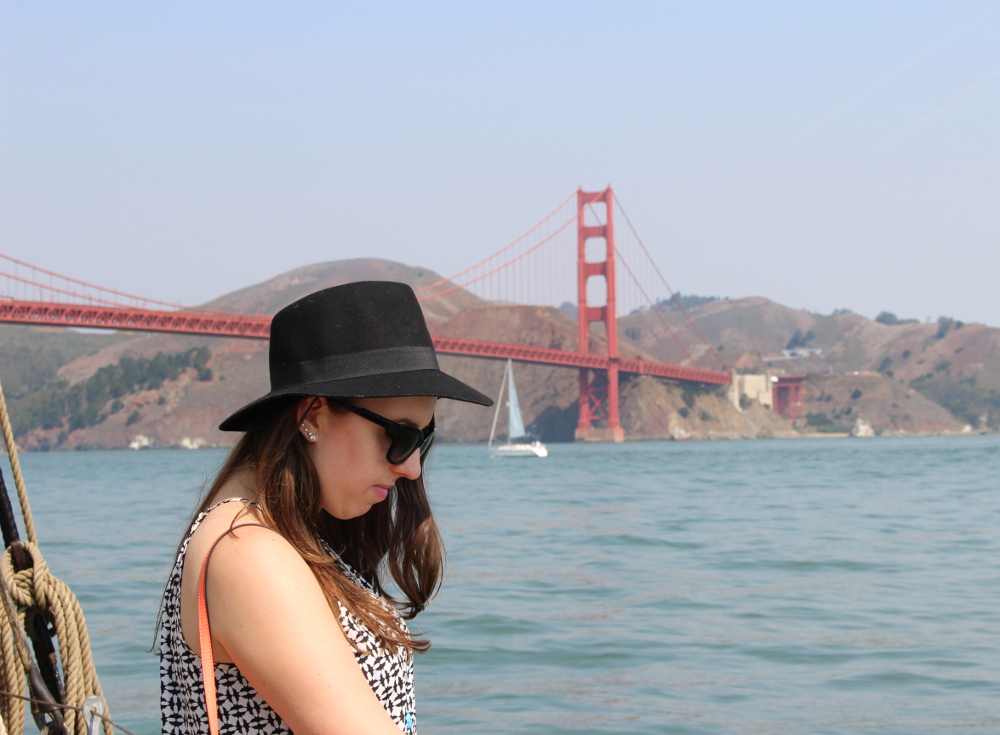 Top: Byer California (c/o) | Leggings: Gap | Boots: Frye | Bag: Milly | Sunglasses: Stella McCartney | Watch: Apple Watch | Nails: Gelish
A few weekends ago we went sailing on the historic Alma, a ship that's part of the San Francisco Maritime National Historical Park. Did you have any idea that San Francisco was home to so may national parks? I grew up here, and I didn't even know! I just didn't understand the significance. And as the National Park Service enters its centennial year, it's an important reminder for all of us to enjoy the national parks that are right in our own backyards.
So, what does one wear sailing? Since this sailing trip was in the middle of our epic heat wave, I decided on simple styling of leggings, boots, and a breezy summer top. Surprisingly, I didn't really need the Marmot jacket I packed, but it was good to have on standby because the fog can always abruptly roll in. Moto boots are great on a slippery boat deck because they have grip, and I definitely needed that when lending a hand setting sail. I probably won't ever sail again in conditions like this, but it's great to know the Alma is always there at the Hyde Street Pier for my next excursion.
photos by Jennifer
Like this look? Then you should check out some of my other outfits and my previous look featuring Byer CA. Be sure to use code chelseapearl at checkout for 20% off your Byer CA purchase.
Disclosure: I received this top courtesy of Byer California.