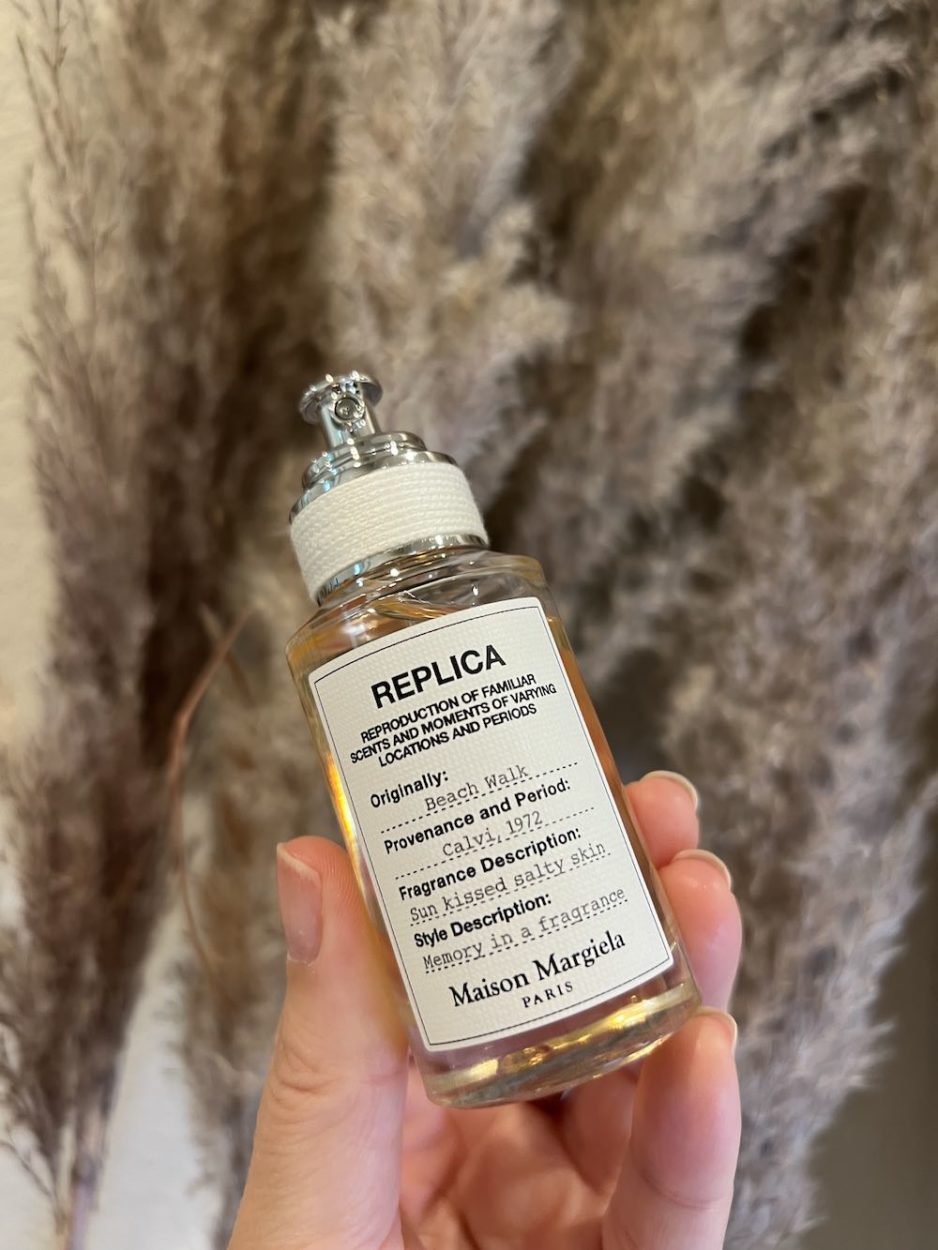 Looking for a summer fragrance to remind you of the beach? Or a fragrance to wear to the beach? This is the list for you. Nothing captures the essence of sun-kissed skin and salty ocean air quite like perfume. If you are clinging onto summer much like I am, fragrance is one way to keep the vibes going all year long.
Let's explore some of the best beach fragrances that evoke memories of warm summer sun and long summer nights. From refreshing sun-drenched citruses to sensual coconut milk, get ready to discover beach-inspired scents that will transport to your dream destination with just one spritz. Did someone say vacation in a bottle?
Best Beach Fragrances
Maison Margiela REPLICA Beach Walk
Key notes: Bergamot, Heliotrope, Coconut Milk, Ylang Ylang
Maison Margiela REPLICA Beach Walk is my 2023 summer obsession. I've been a longtime fan of the REPLICA fragrances, and Beach Walk is dreamy. It has a bright and refreshing scent, with a touch of that sunscreen smell. It has a touch of lemon and white floral that balances out the creamy notes. Beach Walk is also refillable, so you can minimize packaging waste by buying the large refill bottle.
Bobbi Brown Beach
Key notes: Jasmin, Mandarin, Coconut
If you like Beach Walk, and want even more of that fruity and sunscreen essence, go for Bobbi Brown Beach. This is a classic beach fragrance that has been around for over 20 years now.
Ellis Brooklyn SALT
Key notes: Ylang Ylang, Tahitian Tiare, Ambergris
Ellis Brooklyn SALT is that fresh summer scent, without the essence of sunscreen. This is one of my favorite fragrance brands of the moment because they are luxurious and complex, plus both vegan & cruelty free!
TOM FORD Soleil Blanc
Key notes: Coco de Mer, Ylang Ylang Comores Islands, Cardamom
TOM FORD Soleil Blanc is another iconic summer scent, and definitely one for the luxury perfume lovers. It is more of a warm and spicy take on the summer beach fragrance. Cardamom is one of my favorite spices that reminds me of summer and it really adds a nice complex layer.
VACATION Eau de Toilette by Vacation
Key notes: Petitgrain Essence, Coconut Water, Coconut Milk, Bergamot, Solar Musk, Banana, Pineapple
Vintage summer vibes, in a bottle! This retro inspired brand, most well known for their sunscreen, has expanded into the fragrance category with this eau de toilette. Just look at that bottle!
The best part? Most of these perfumes come in rollerball sizes so you can try them in a travel size before buying the full bottle. They're the perfect purse-friendly and TSA-friendly size for your next beach getaway!
What's your favorite summery beachy perfumes? Let us know in the comments below!