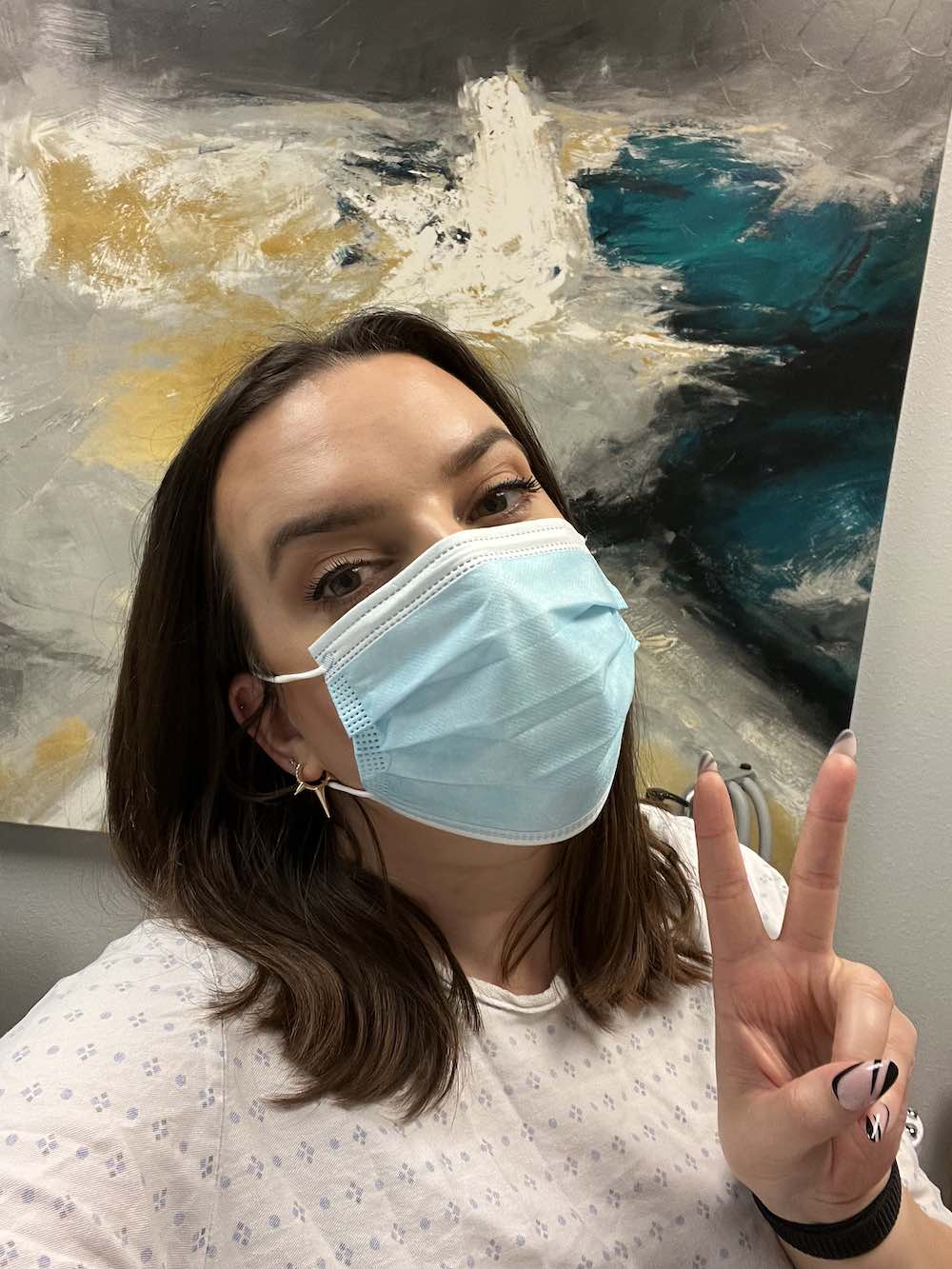 Treatment provided by Skin Refine Medspa
This is a full guide to Qwo (collagenase clostridium histolyticum), first and only FDA-approved injectable treatment for moderate to severe cellulite in the buttocks of adult women, that has been months in the making! When I had the opportunity to test out the treatment for myself at Skin Refine Medspa, I was thrilled to be able to share my experience. 9 out of 10 women experience cellulite, and this is a new cutting edge treatment that many may be interested in trying.
Before getting to Qwo, first we need to start with what is cellulite. Cellulite is not fat. It's not caused by how much you eat, or what you eat. And it's not caused by not exercising enough. Three main things contribute to cellulite. Over time, your skin thins. Then, fat cells may enlarge and push against the skin. Finally, the fibrous bands under the skin can thicken and cause tension. This fibrous septae causes that dimpled look in your skin. Cellulite is caused by genetics, even slim people can have cellulite.
Now cellulite has never stopped me from doing things like wearing shorts, but I would just rather not have it. I don't like the dimples, and sometimes I do like hiding behind the veil of self tanner or spray tans to give the appearance of smoother, firmer skin. In terms of other plastic surgery and body contouring treatments I've tried in the past, such as breast reduction with breast lift, VelaShape, and CoolSculpting, Qwo was a totally different experience.
Qwo is a cellulite injections treatment, done over the course of a few months, which gave me some pretty impressive results I was never able to achieve with diet and exercise alone. Let me walk you through the experience trying this cellulite treatment and the Qwo results I've seen so far!
All About Qwo Cellulite Treatment
What To Know About Qwo Cellulite Treatment
What is Qwo cellulite treatment?
Qwo is an FDA-cleared injectable treatment for treating the appearance of cellulite in the buttocks. Qwo (collagenase clostridium histolyticum-aae) is by Endo Aesthetics. The collagenases enzymes work to help to release fibrous bands, redistribute fat cells, and stimulate the growth of new collagen. It is the most clinically studied FDA approved cellulite treatment. It has been studied in more patients than any other cellulite treatment.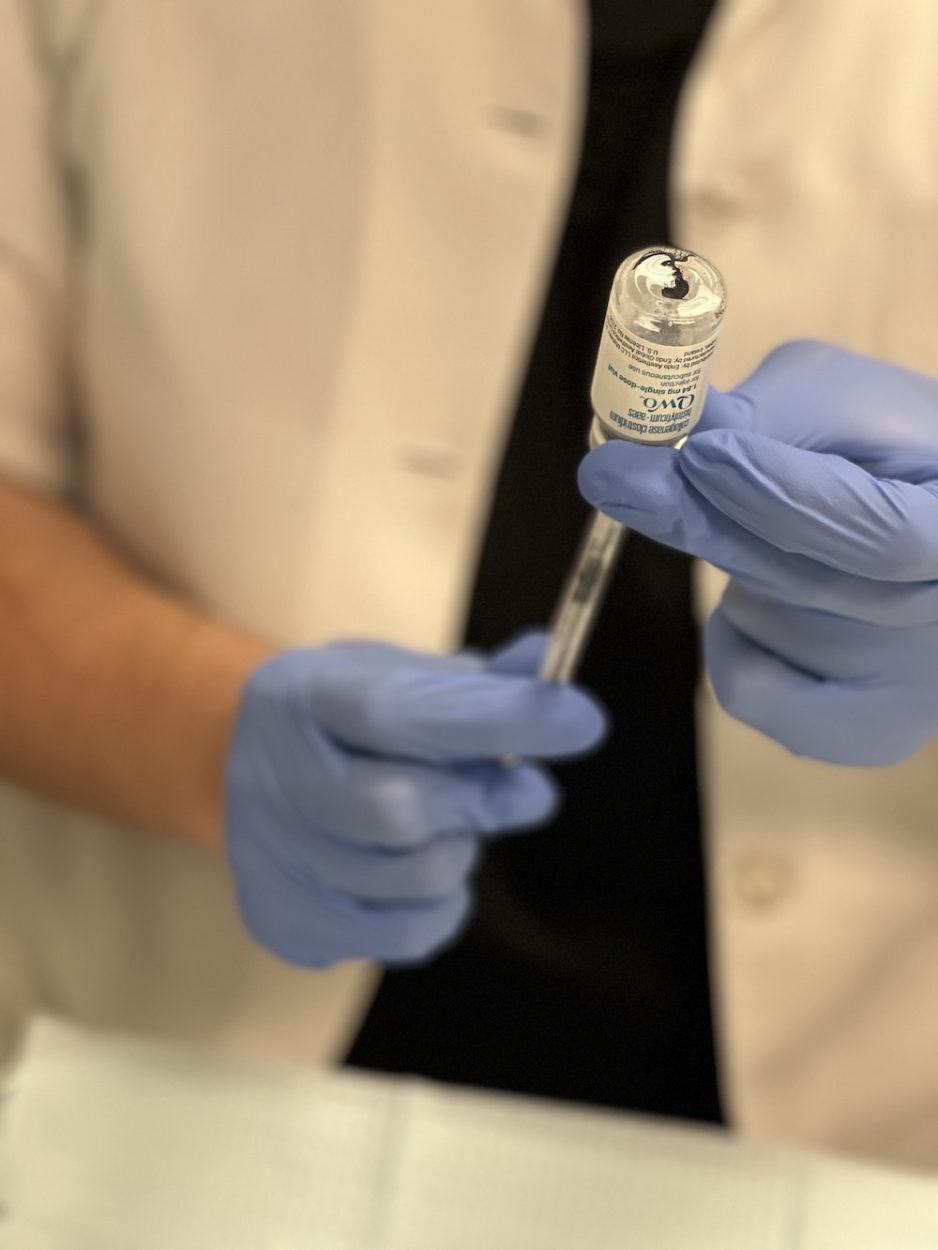 Where can you get Qwo?
Qwo is currently only for cellulite in the buttocks.
Where did you get Qwo done?
I got Qwo done at Skin Refine Medspa here in the Bay Area. They are located in Sunnyvale, CA. Jamieson Zumel RN did my treatment, I also sometimes see him for Botox and Dysport. They offer other kinds of treatments like body contouring, injectables, fillers, and laser hair removal as well.
How much does Qwo cost?
The Qwo cellulite treatment cost will vary based on location and clinic. Qwo is done in a series of three visits and the total cost currently at Skin Refine Medspa is $3,300.
Is Qwo covered by insurance?
Qwo is a considered a cosmetic procedure to treat cellulite, so insurance does not cover it.
Is Qwo permanent?
Qwo is permanent, however the body can develop new cellulite in new areas over time with weight loss and gain.
What was the treatment like?
The treatment is done in 3 different phases, all with different intensities of recovery each. Treatments are spaced 21 days apart, or around 3 weeks. Each treatment will be a maximum of 24 injections, with 12 injections on each cheek. You'll be tummy down on the exam table for the treatment and a little bit after. Bruising and swelling are the biggest side effects, and you'll be tender, bruised, and sore for weeks following your visit. The bruising is significant, but the first treatment was the worst of it. With each visit, your nurse injector will target a unique section of cellulite and the individual dimples.
Does Qwo hurt?
There is no numbing and the treatment is quick, done in about 20 minutes or less. Injections are a little spicy on the outer glutes, but the pain is manageable. Recovery is more painful than the injections themselves.
What was the recovery like?
Since each treatment was unique, here's how injection site bruising and recovery went for each Qwo session. I wore compressive shapewear for 4-5 days after each visit to ease the swelling. I also took arnica tablets for about 3 days leading up to each treatment to minimize bruising. Let me break up some of the recovery photos by treatment. The first photo is the first day after Qwo.
1st Treatment

avoided sitting down for long periods of time immediately following treatment
slept on my side or tummy for 1-2 weeks
full opaque purpley black bruising on each cheek
very swollen, tender, and sore
felt a little lumpy to the touch while healing, which is normal
bruising started lightening around day 4, yellowing at day 6
bruising recovery photos: day 2, 4, 5, 6, 8, 14
2nd Treatment

since the 2nd treatment focused more on the outer and lower portions of the buttocks, the bruising pattern was totally different
bruising way less concentrated and opaque
bruising recovery photos: day 1, 2, 5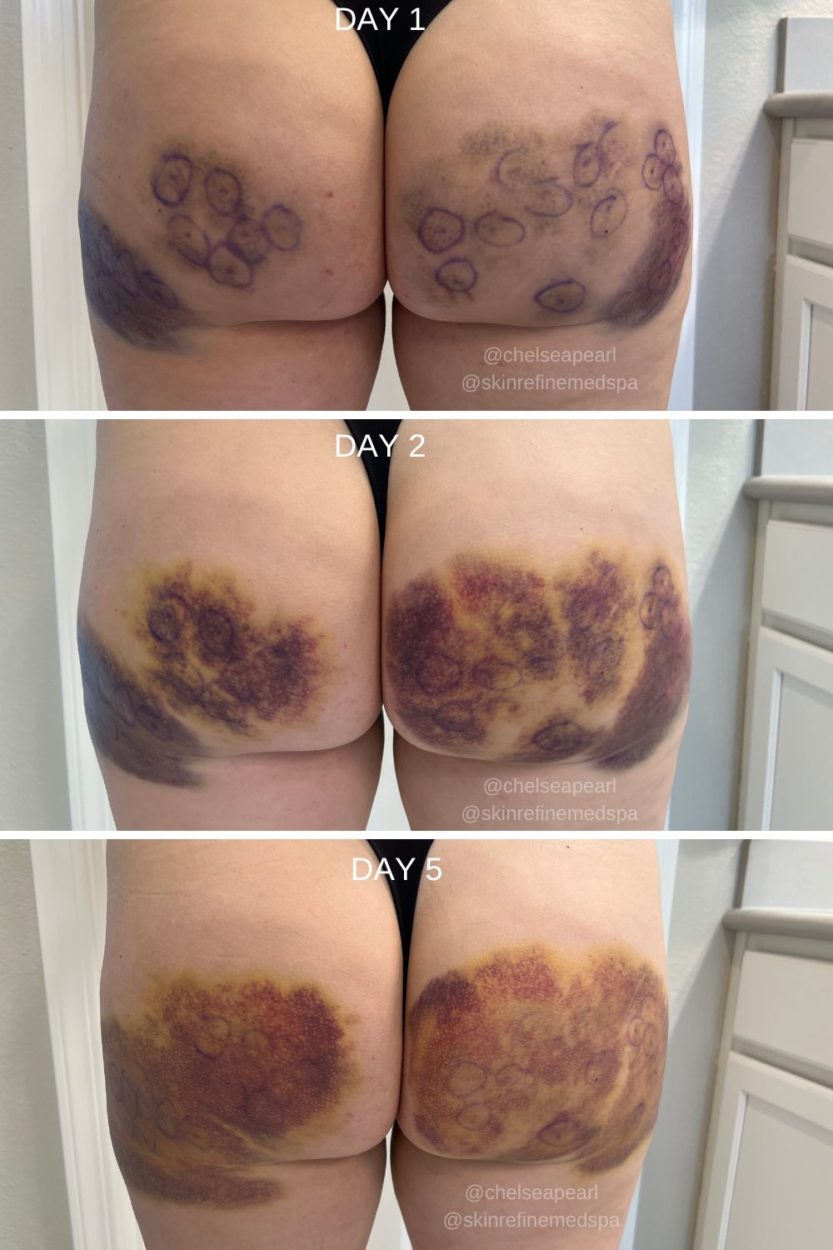 3rd Treatment

hardly any bruising with this treatment, just a light shadow around the treatment areas
recovery was much easier than treatments 1 and 2
bruising never really got to deep purple stage
bruising recovery photos: day 2, 11
The Qwo Before and After?
Here is my Qwo before and after. My before photo was March 4th and my after photo was June 6th.
The Qwo Results?
I started seeing results with Qwo after the 2nd treatment, but the transformation after the 3rd and final treatment is quite noticeable.
I clearly see a significant difference in the look and feel of my butt. Not only does the skin appear more smooth, it just appears more firm in general. Cellulite treatments may perform differently per patient, but in my case I'm really pleased with the results. In terms of bruising, there's still a little shadowing that has faded tremendously but it still has a little way to go. At the time of writing this there aren't many Qwo reviews on blogs, so I'm excited to share my experience.
Conclusion
In short, I am loving my Qwo results and I cannot wait to wear bikinis that I have never been brave enough to try before. Combined with all the low impact exercise that I love doing lately, I'm excited for my new "look" and the extra confidence boost moving forward.
For important safety information visit the official Qwo site and contact Skin Refine Medspa for a consultation. Please leave a comment below with any of your questions, I'll plan to do a Qwo follow-up video in another couple of months.
Hopefully this filled you in on everything you need to know about Qwo for cellulite. Need more beauty inspiration? Don't forget to visit some of my other skin care, treatment, and body care content before you go!