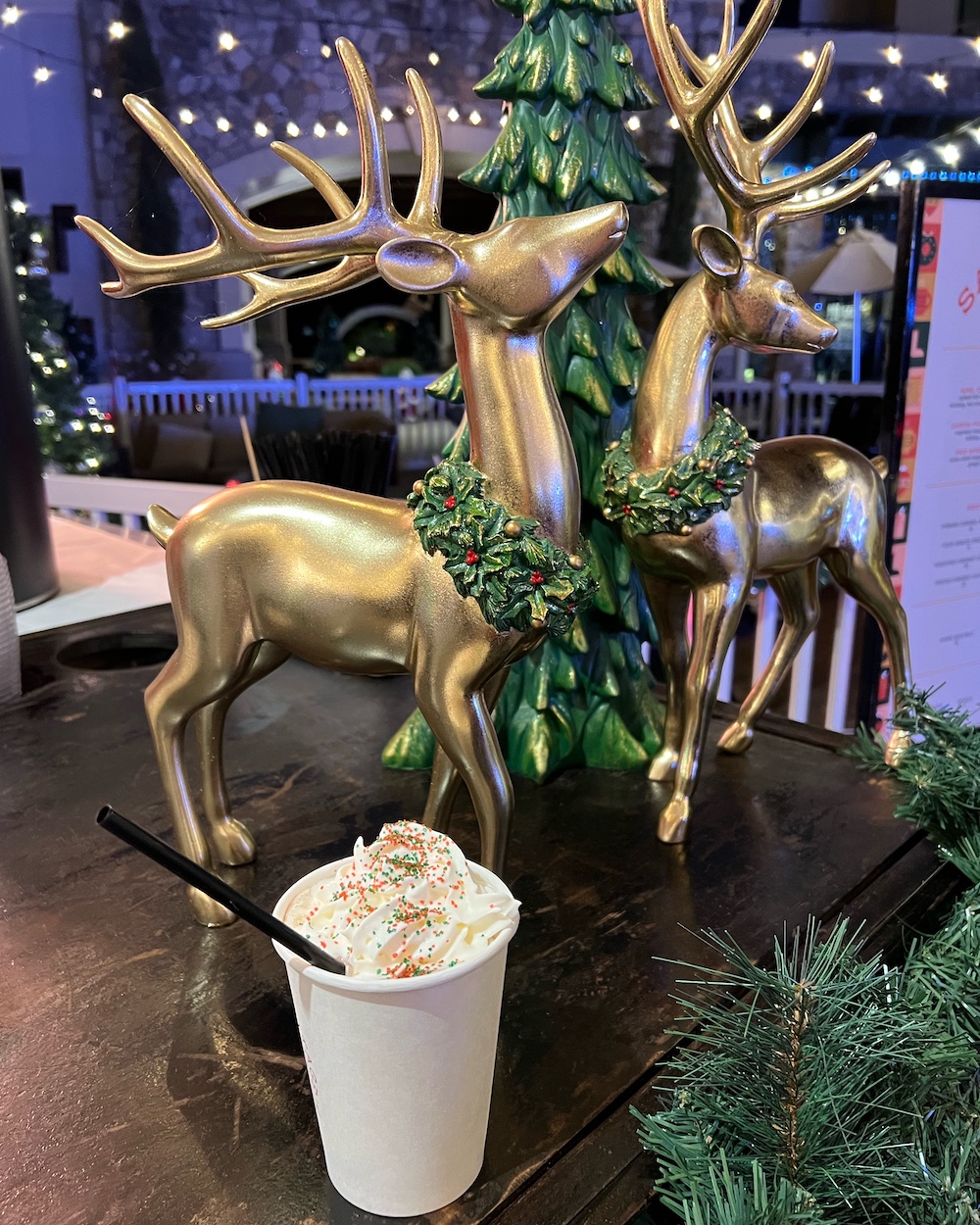 Spending Christmas in San Francisco or the Bay Area this year? Let's cover all the best Bay Area holiday activities and events. What we lack in real snow, we make up for in a diverse array of things to do around the holidays! From ice skating to holiday tea to seeing Santa IRL, here are all the best things to do in the San Francisco Bay Area this December and holiday season!
Holiday Things To Do in the Bay Area
East Bay Area Holiday Events
Holidays In The Hills at the Claremont
Located in the East Bay hills, The Claremont has transformed their "Five Palms" area into a mini winter wonderland for Holidays In The Hills. Open daily, guests can enjoy woodfired pizzas, festive cocktails, and skating on their Swiss-engineered synthetic Glice rink. Don't miss the epic sunsets here, or the events and specials sprinkled over the holiday season including gingerbread house decorating, holiday tea, holiday dinners to go, and winter spa packages. This holiday activation is brand new and the Glice rink will actually be open through February 2023. No toe picks are allowed on the Glice, so bring hockey skates if you have them or rent when you arrive.
Claremont Club & Spa
41 Tunnel Road, Berkeley, CA 94705
North Bay Area Holiday Events
Merry Meritage at The Meritage
Merry Meritage is my new favorite holiday tradition, two years in a row! The Village area at The Grand Reserve, part of the greater Meritage Resort, hosts all kinds of holiday fun you'll want to enjoy with both adults and the whole family. They have a huge ice rink which opened in early November. They did their holiday tree lighting the day after Thanksgiving. And now through January 8th, you can enjoy daily ice skating, a food truck with holiday inspired dishes, and Santa's Tavern, an outdoor bar with all the festive cocktails, either iced or warm. Merry Meritage hosts Napa's only outdoor ice rink, too!
The Meritage Resort & Spa
875 Bordeaux Way, Napa, CA 94558
Sippin' Santa at the Flamingo's Lazeaway Club
Sippin' Santa is a fun holiday pop-up experience inside the Flamingo's Lazeaway Club. They have created a fun festive menu of holiday bites and pair with tiki drinks, all served in really fun glassware. They even offer live music on Tuesdays and Thursdays. Just stepping in here feels like you're on already on vacation. The Pacific fusion twist makes this a really unique holiday bar experience like none other!
Flamingo Resort
2777 Fourth Street, Santa Rosa, CA 95405
San Francisco Holiday Events
Fairmont Hotel San Francisco
No one does the premium holiday experience quite like the Fairmont San Francisco. The lobby is decked out with a two-story gingerbread house made of real fresh baked gingerbread. The scent alone is worth the trip! See's Candies has sponsored the display this year. Not only that, the gingerbread house hides tons of little decorations in the display, things like Santa Claus, North Pole elves, toy trains, and tons of holiday lights. The San Francisco Fairmont lobby also has a Moët bar and you can also reserve a holiday high tea experience.
Fairmont San Francisco Hotel
950 Mason Street, San Francisco, CA 94108
Union Square Holiday Rink
As a former figure skater and resident of San Francisco, the Union Square ice rink is just a classic holiday experience. You can't beat the central location and proximity to the iconic Union Square Christmas tree. I haven't been in years, but it's always a fun time. Buy tickets ahead of time, because it's quite popular!
Union Square Ice Rink
333 Post Street, San Francisco, CA 94108
Dickens Fair
While I have never done the Dickens Fair, I have no doubt it's anything short of iconic. It has been going on at the Cow Palace Exhibition Center longer than I have been alive. The 2022 Dickens Fair runs 10am-6pm for 5 weekends, November 19 through December 18.
Dickens Fair
2600 Geneva Ave, Daly City, CA 94014
San Francisco Holiday Houses
If you're looking for a free San Francisco holiday sight, you've got to see some of the incredibly decorated San Francisco homes. There are many holiday light displays around the city. Remember these are usually private residences, so please be respectful of the residents and neighbors by parking on the street and not blocking driveways.
Castro Christmas House
68 Castro Street, San Francisco, CA 94114
Holiday Themed Bars
I haven't been to any of the San Francisco holiday themed bars yet, but there are a bunch of them all over the city. Enjoy over the top festive decor, holiday lights, cozy cocktails, and unforgettable holiday memories you'll cherish for years to come.
Deck The Halls Bar
1787 Union Street & 1979 Union Street, San Francisco, CA 94123
Tinseltown Bar
1123 Folsom Street, San Francisco, CA 94103
'tis the season for fun in the Bay Area! What are some of your favorite Bay Area holiday events? Please share your favorite ones in the comments below. Don't forget to bookmark this post and share it with a friend!