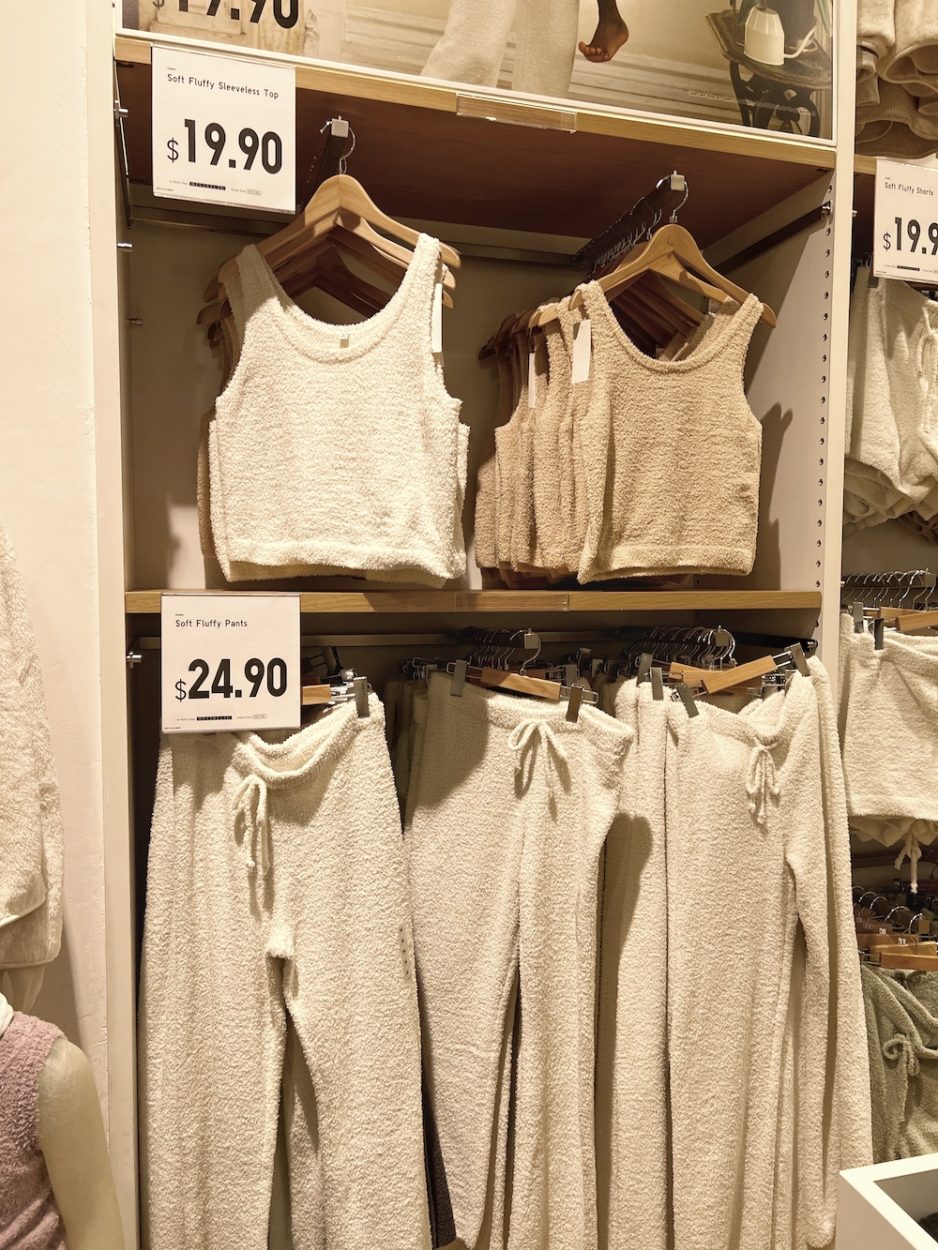 Let's chat about what's new at Uniqlo this spring. There is a lot I'm eyeing! One shop I miss since moving to the North Bay is certainly Uniqlo. So anytime I'm in the area I love popping in to see what's new. I shopped at the Westfield Valley Fair store in Santa Clara a few weeks ago and saw a ton of cute new pieces for spring. They had all the classic ultra light down and AIRism items, but a ton of new loungewear and cozy everyday wardrobe essentials like tank tops, long sleeves, outerwear, and more. Even some Skims lounge set dupes! Let's go through everything at Uniqlo that recently caught my attention.
What's New at Uniqlo – Spring 2022
Long Sleeve Crew Neck Waffle Top
I loved the look and feel of this waffle knit top so much, I bought it in two different colors: black and oatmeal. I grabbed one in size L for a fitted look and the other in XL for a longer oversized fit. This Uniqlo top comes in size XXS to XXL.
Linen Short Sleeve Romper
Give me a boxy, utility style jumpsuit or romper any day. I just love the look! This linen romper has has a collar and waist tie with concealed buttons up the front. The fabric is a lovely structured linen blend. I want to grab this in both black and beige. They didn't have my size in store so will be placing an order online. This Uniqlo romper comes in size XXS to XL.
Linen Cami Jumpsuit
A cami jumpsuit is one of my favorite pieces to style all year long. You can easily dress it up or down, and kind of wear it like you would a LBD. This one is in the same style light linen blend of the romper. This jumpsuit comes in 3 colors and size XS to XL.
Fuzzy Lounge Tank Top
Skims dupe alert! This stretchy fuzzy lounge top is part of a set, which can either be worn together or separately. The tank top is slightly cropped in length, so when I buy this I'm likely going to size up with my long torso. Comes in 4 colors in size XS to XXL.
Fuzzy Lounge Pants
These fuzzy drawstring lounge pants go with the lounge top to complete your ultimate cozy loungewear combo. This gives you the look of the Skims fuzzy lounge set for about one quarter of the price. These pants come in size XS to XXL.
Fuzzy Lounge Shorts
Guess what? The fuzzy lounge pants also come in fuzzy lounge shorts! Who knew Uniqlo had all these Skims dupes? The perfect cozy loungewear option for spring and summer. These shorts come in size XS to XXL.
Like this post? See something you like? Be sure to read through some of my other spring style content before you go.