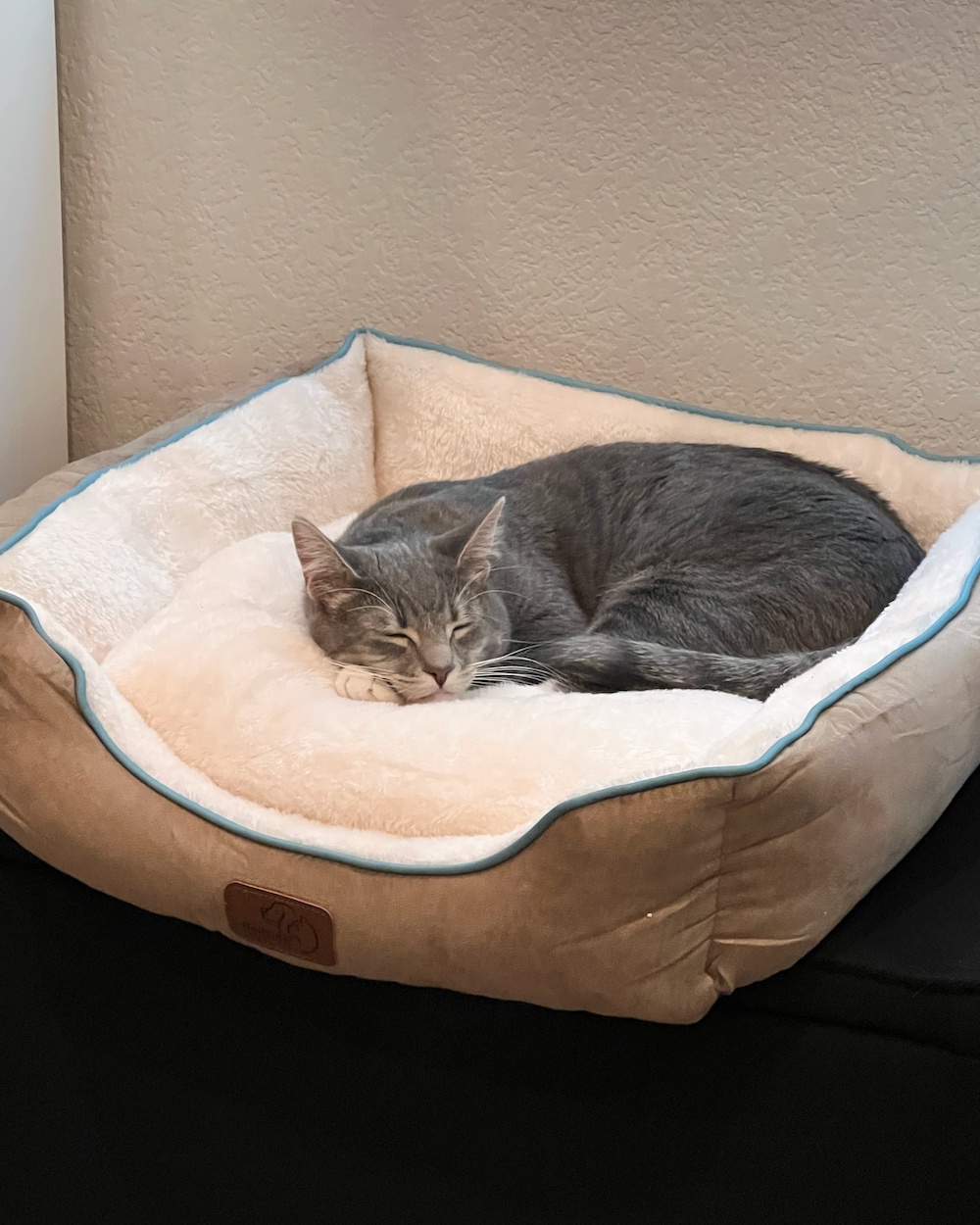 This post contains Amazon affiliate links. As an Amazon Associate I earn from qualifying purchases.
Last September we welcomed home a new kitten, and I've pretty much been obsessed with him ever since. His name is Toby and he's just the sweetest little cat. He's a rambunctious short hair gray tabby with white socks and a white chest. He's a skilled hunter but also a very sleepy boy who loves to nap. So we've been shopping for a lot of pet products over the past few months, many of which we've found on Amazon. I wanted to round up some of the best Amazon cat must haves, that both Toby and I love.
Amazon Cat Must Haves
Wooden Cat Tree
This is one of the very first things we bought, that I picked out ahead of even knowing if and when we'd get a cat. I love the look of this minimalistic wooden cat tree which has a stylish design. It has two platforms for your cat to perch on, plus a cubby at the bottom. The pole in the middle is also a scratching post material. When we had an additional foster cat over the holidays, both him and Toby would hang out on this cat tree and it was absolutely precious. I call this the kitty sauna since it reminds me of the saunas I saw in Finland!
Cat House
This top rated Amazon cat bed on is actually the bed Toby sleeps in most nights. It's a square shaped cat house, with a cubby, floating pom pom, roof bed, and scratching post on the side. In fact when we were fostering another cat the last 3 months, both cats like to hang out in this!
Automatic Pet Feeder
Everybody likes a little daily routine, right? This automatic pet feeder helps keep Toby on a consistent feeding schedule with determined portion sizes. Even though we work from home, being able to feed kitty at the same time every day can be difficult. This Amazon gadget takes that stress away!
Cat Water Fountain
I learned from cat expert and TV personality Jackson Galaxy that cats instinctually prefer drinking from a running water source. In the wild, cats know to drink from a river or stream over standing water. So this handy Amazon cat water fountain should appeal to your cats' natural instincts. Toby loves this water fountain and it definitely has upped his water intake habits. This water fountain has an internal pump with a filter to catch any cat hair. Once you take it apart the pump, the rest of the pieces are dishwasher safe.
Camel Faux Fur Cat Bed
This cat bed was gifted by Bedsure.
When it comes to the best looking cat bed, this one is it. I love this donut shaped round faux fur cat bed by Bedsure. It's the exact same soft plush and airy faux fur that their blankets are made with. I love the camel color as it matches our neutral home decor vibe perfectly. This comes in a few different sizes. We have the small which measures 20″ x 20″ x 6″.
Camel & White Cat Beds
These cat beds were gifted by Bedsure.
I have two different styles of these plush camel colored cat beds by Bedsure. One is round, the other rectangular. Toby loves both! The outside fabric is like a soft brushed microfiber, and the inside is a plush fluffy fleece. We like to have somewhere for him to sleep comfortably in every room, so these affordable cat beds are perfect. They're machine washable too!
Roborock S4 Robot Vacuum
Perhaps the true unsung hero of our household, which we couldn't frankly live without, is the Roborock S4 robot vacuum. We appreciate it even more now that we have a cat. We use this thing every day, sometimes twice daily. This Amazon robot vacuum has 4 modes of suction and sophisticated LIDAR navigation that will precisely map and clean your space. Cats shed a lot, so regular dusting, sweeping, and vacuuming is a must. They also occasionally trail litter outside of the box, which vacuuming is the most practical solution for. You can program the Roborock S4 with the mobile app to do a whole floor clean, clean by room, or targeted zone clean. Additionally you can establish no-go zones, for instance in my filming studio around tripods, cords, and lighting equipment.
The story of Toby is that he is a "foster failure" where we initially just signed up to foster him as small kitten. We loved him so much we decided to keep him. He's really easy going too, so we are still able to foster other cats that need some extra love and socialization. We fostered another cat for the past three months who previously had a lot of trauma. He was rescued from a hoarder situation in an apartment with 40 cats! Toby was able to show him simple things like how to play, the best windows to watch birds from, and the best spots for naps. Have you fostered animals before? It's been a really rewarding experience so far. I would certainly recommend it if you have the time and space to host an animal in need!
I haven't had a cat since I was a kid, so I would love to know some of your cat must haves. Please share your favorite cat products in a comment below so everyone can read it.
Like this post? See something you like? Don't forget to look through my favorite Amazon sunglasses, Amazon travel essentials, and Amazon fashion jewelry finds as well. Also follow me on Amazon for weekly livestreams!