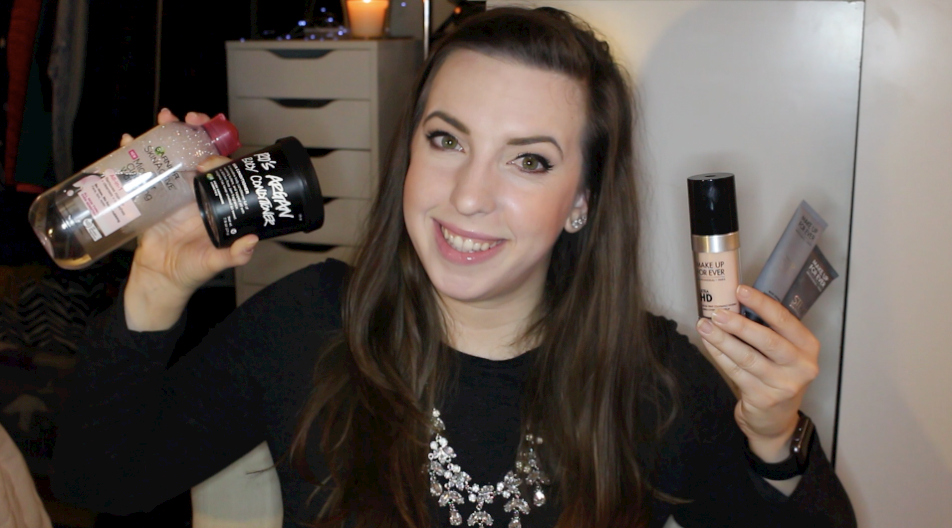 First faves of 2016! I have a mix of makeup, skin care, and body care to share. There's also an assorted price range because I'm all about saving money while still enjoying the occasional splurge.
Watch the video below and scroll ahead to read more of my thoughts on the products mentioned.
Make Up For Ever Step 1 Skin Equalizer Smoothing & Mattifying Primers (c/o)
I've been trying out four different primers from this range, but I've found the smoothing and mattifying versions are best for my oily to combination skin. They help my foundation glide on easier and smooth over textured areas of skin. A little bit goes a long way, too!
Make Up For Ever Ultra HD Foundation (c/o)
This has been my daily foundation as of late because it's comfortable, natural, yet still really buildable and flawless on the skin. I find that this foundation works best when applied over a primer (see above!) and set with a powder. The shade range is fantastic, as well!
PÜR Cameo Contour Dual-Ended Contour Stick (c/o)
I love multitasking cosmetics and this is a fantastic option for your contour and highlight. It blends well and even comes with its own sponge.
Shiseido Ibuki Multi Solution Gel (c/o)
One of the most innovative products I've tried lately, the Ibuki gel helps refine, clear, and tighten my pores, all without stripping my skin. The gel is easy to apply and I use it daily after cleansing and toning, but before my moisturizer.
Pixi Glow Tonic
I recently shared this toner in my Skin Care Detox post and over on OMGbuymeTHIS, but it's definitely worth mentioning again! This is one of the best drugstore toners I've used because it's effective at exfoliating, yet not overly irritating on the skin.
Garnier Micellar Water
Again, this is no stranger to my blog, and it's no stranger to the beauty blogger community. It's a gentle cleansing water that's essentially a dupe to Bioderma for half the cost!
LUSH Ro's Argan Body Conditioner
After one use, I knew this was going to be a body care staple. Ro's Argan is a rich nourishing cream you use on your damp skin in the shower. Make sure you turn off the water though, because this item is pricey and you don't want it running down the drain! It leaves my legs and arms hydrated and nourished, yet not greasy to where I can't immediately put on a pair of skinny jeans and run out the door. If you suffer from dry skin in the winter, definitely try a sample of this stuff. The scent is absolutely heavenly, too.
What have you been loving recently? I'd love to know some of your monthly favorites!
Catch up on my favorites playlist and stay tuned for another edition of empties coming up soon. Thanks for reading!
Note: I received the items noted with (c/o) for consideration. I'm not compensated for mentioning them. As always, all thoughts are my own.