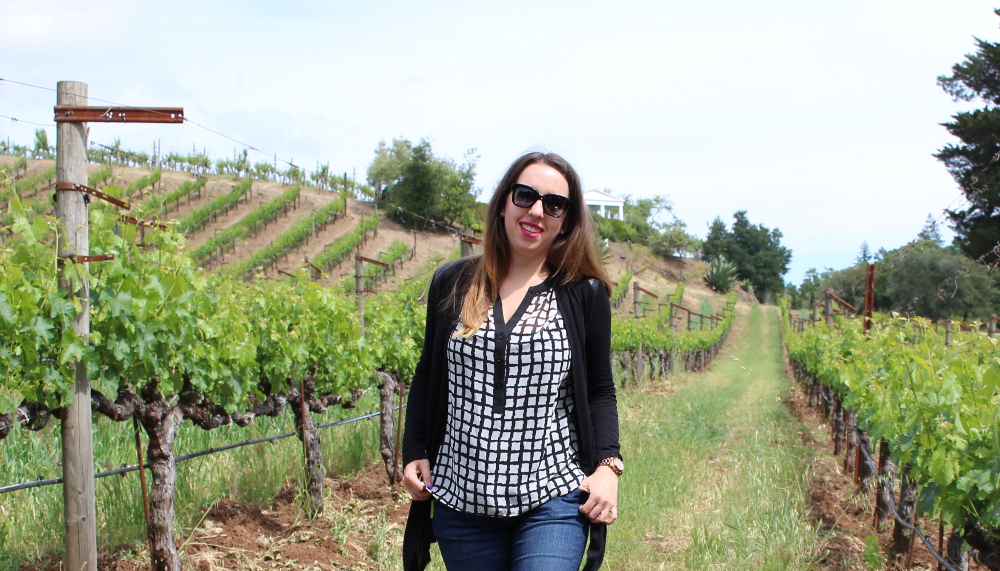 Top: Collective Concepts (via Nordstrom Rack) | Jeans: Hudson | Cardigan: Love Culture | Sandals: Rebecca Minkoff | Sunglasses: Stella McCartney | Watch: Michael Kors | Bracelet: Vince Camuto | Earrings: Forever 21 (similar) | Nails: OPI 'Chapel of Love', Sally Hansen Xtreme Wear 'Pacific Blue', & Sinful Colors '24/7′ | Lipstick: Lime Crime  'Pink Velvet' Velvetine
I've mentioned it time, and time again… nothing beats a mini escape from the hustle and bustle of the city. Even if it's only for 8 hours and requires losing your San Francisco parking spot over. Last weekend I skipped off North for breakfast at Wild Flour Bakery, for some seriously delicious brick oven-baked goods. After indulging in a few too many scones, sticky buns, and espresso shots, we sauntered over to my friend's sister's farm in the small town of Occidental. There were horses, chickens, quail, and more on her expansive property which included ocean views despite being so far inland. And finally since we were somewhat in the area, we topped the day off with tasting at Benziger, one of my favorite Sonoma wineries.
So what does this all have to do with style? Everything! I chose this look only knowing that a bakery was the only planned activity. I've been reaching for this chiffon paintbrush checkered top a lot lately because it's dressy yet casual. It also allowed for an extra layer cami underneath for the finicky breezy-but-sometimes-warm weather. Nordstrom Rack has so many of these tops right now and since they're usually cap sleeved or sleeveless, it makes them super easy and comfortable to layer with thin cardigans, thicker sweaters, and blazers, of course. I'm into it… are you?
Thanks so much for reading!