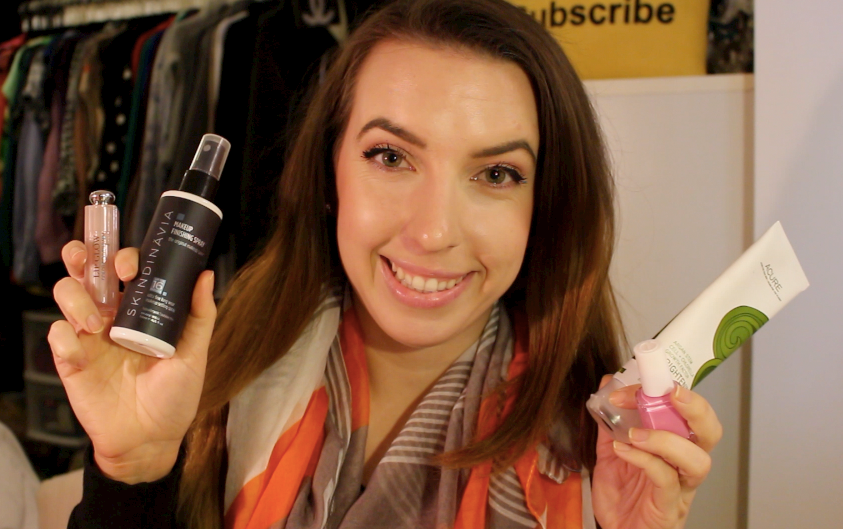 A short month means only a few favorites! But don't let that fool you, I have a selection of powerhouse products that can be used year-round. Here's all that I was particularly loving this month.
Essie 'Cascade Cool'
Since Pantone's color of the year is radiant orchid, I've been reaching for this cool toned medium pink a lot lately. It captures the essence of spring, without being overly pastel or neon. It's just the perfect shade for when I want some color but don't want to make a huge statement about it. Check out this feminine polish worn in outfits here, here, and here.
Dior Lip Glow
This is a returning favorite, and for good reason! This is my go-to lip product lately that gives a lot of moisture and provides a nice sheer pink color. Dior has raised the price on this product yet again, which is annoying, but I will absolutely and positively put my next Nordstrom Note towards my another tube. Dior Lip Glow is now a permanent fixture in my handbag.
NYX B26 Professional Small Flat Top Brush
This duo-fiber brush is an oldie but a goodie, and I purchased another one of these brushes at IMATS LA since I love it so much. With this brush, I can never apply too much blush. It just does an impeccable job of applying and blending at the same time. If you dig glowy skin, this is also a fantastic choice for applying liquid and powder highlighters.
Skindinavia Makeup Finishing Spray
I have no idea how this stuff works, but it totally eliminates any powderyness my makeup has and makes everything appear much more seamless. This is one of the nicest makeup finishing sprays since it gives a fine mist and leaves you feeling refreshed; never with a sticky or slimy feel. Plus, it's paraben-free!
Acure Organics Brightening Facial Scrub Sea Kelp Plus Chlorella Growth Factor
I hauled this scrub a while back in my DrVita haul, and it's actually been a favorite since the first time I tried it. Acure's scrub is packed with natural ingredients and delivers a serious exfoliation. Your skin is left baby smooth, and you can even indulge in this scrub up to three times a week. Don't let the green color and sandy texture frighten you… this is an amazing scrub!
I'm taking off for Mexico in a few days, so you better believe many of these items are coming with me!
What products were you enjoying this month? Leave me a comment because I always love to hear about hidden treasures from the drugstore, department store, or even grocery store! As always, thanks for reading.