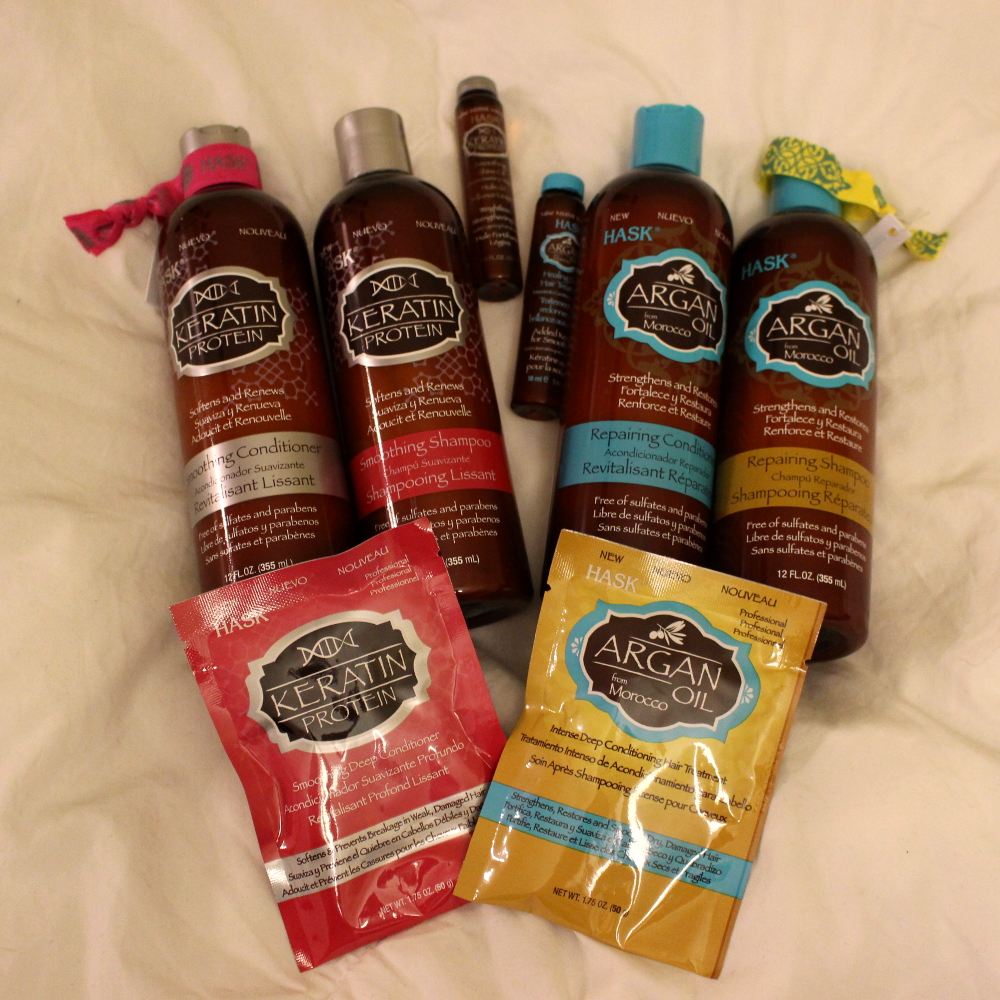 Hask is a line I had never heard of before, but after little investigation I quickly learned it was right up my alley. It's a line of affordable yet luxurious salon-quality hair care products that make your hair beautiful from the inside out. They recently hooked me up with some products to try and I wanted to share my haul and review. First, here's a little background on the two lines I've tried.
Argan Oil
Also known as "liquid gold," Argan Oil is a precious, time-honored beauty secret in its native Morocco. Loaded with vitamins and antioxidants, Argan Oil from Morocco repairs, strengthens and moisturizes hair, all while taming frizz and adding shine. So saunter on down to the bazaar and barter for some of that liquid gold! Or you can, you know, pick up some Hask Argan Oil products… yeah, that'd probably be easier. Oh, and genie? About that new car….

Keratin
Are color treatments, blow drying and hot irons leaving your hair lifeless and drab? We feel your pain! That's why Keratin is a key ingredient in these fab new Hask products. Keratin Protein is the stuff your hair, skin and nails are made of—so it's no wonder it's so powerful and restorative for your hair. Keratin revives, restores, calms and strengthens parched, frizzy locks—wiping out the effects of heat, humidity and over-styling and helping your hair look and feel its best. What can't Keratin do, you ask? Hold the curling iron for you, but that's about it. Making Hask® Keratin Protein products a part of your daily beauty routine can help to revitalize and condition that hair of yours, all while sealing in moisture and shine!
The Haul
Argan Oil Repairing Shampoo
Argan Oil Repairing Conditioner
Argan Oil Deep Conditioner
Argan Oil Healing Shine Oil
Keratin Protein Smoothing Shampoo
Keratin Protein Smoothing Conditioner
Keratin Protein Deep Conditioner
Kertin Protein Smoothing Shine Oil
Elastic hair ties
Bathroom caddy
The Verdict
In short, these products are amazing! I've tried everything out except for the deep conditioning masks since I need to give my hair a few more days until I do a heavy duty treatment. I have fine textured hair, which is damaged and dry at the ends, so I loved both lines for mending and smoothing my locks.
First off, they are sulfate- and paraben-free, so they pass my ingredients test. As an added bonus, they are also cruelty-free.
Second, they really lather up and feel as luxuriously thick as standard shampoos and conditioners loaded with chemicals. And they're potent, too.
Third, they smell magnificent. While I may prefer the sweet citrus scent of the argan oil line, the keratin line is also deliciously fruity smelling.
Lastly, my hair looks and feels amazing. This is no easy feat, because I stick to more natural and chemical free products and my hair is damaged, trying something new is often hit or miss with me. In this case, it's a huge hit!
So, have you tried the Hask hair care line? I'd love to hear your thoughts! If you like what you read here, be sure to check out Hask on Facebook, Twitter, and Instagram to stay up to date with them.
Disclosure: I received the Hask products for consideration through BrandBacker. As always, this is my honest opinion.