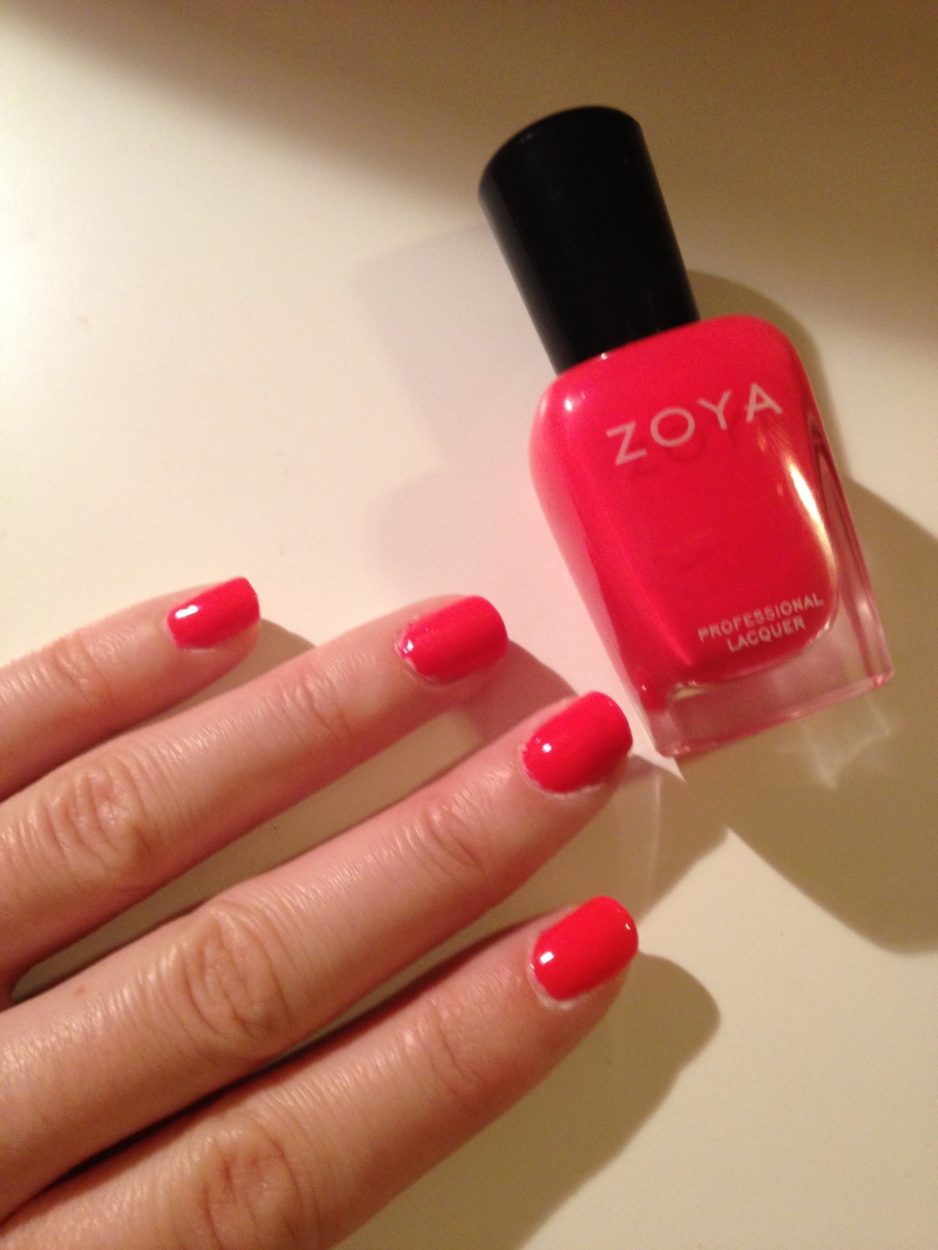 I have a confession to make: until about two years ago, I never liked painting my nails. I would get the occasional manicure at the salon, but would immediately ruin it typing furiously on my keyboard, assembling IKEA furniture, or doing everyday housework. If I was to spend any time and money on pampering, I prefered a facial or a pedicure. I always had strong long natural fingernails that I was happy enough with, but now painting my nails is one of my most relaxing weekly routines that makes me really happy. There's something about looking down at a fresh, clean mani makes me feel extra feminine and pretty. So now I take about 90 minutes of "me time" once or twice a week to give myself a manicure. I've also come to terms with the fact that a perfect manicure rarely lasts more than two full days with the amount of typing and day to day activity I do.
Over the past two or so years I've collected maybe 75 polishes and switched to at-home manis religiously. I acquired most of the polishes through ULTA clearance sales and gifts, and I love a mix of drugstore and higher end brands. The majority of the colors in my collection lend themselves best to warmer weather, so I just had to share my top picks for spring. I've cut back on buying new polishes recently to focus on finishing some of these up, so many of these picks have been my favorites for a while.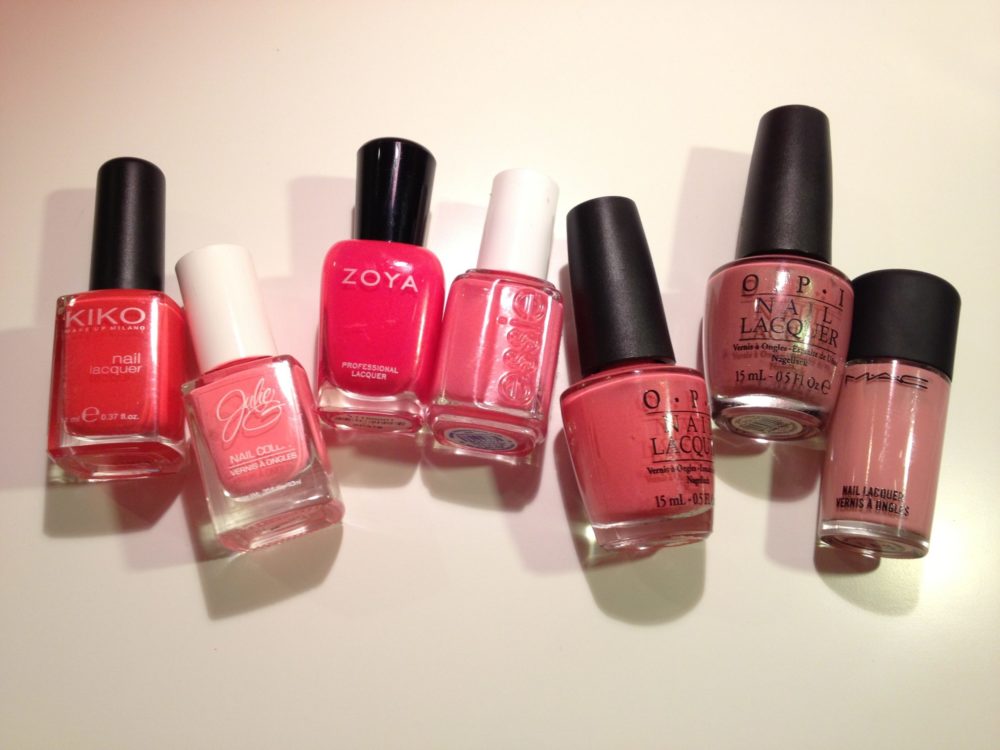 Left to Right: Kiko #281, Julie G "Bikini", Zoya "Ali", Essie "Movers & Shakers", OPI "Chapel of Love", OPI "Shanghai Shimmer", MAC "Snob"
Kiko #281: a bright hot coral that screams spring and summer. The formula is thin but very opaque. The finish is creamy and there's no shimmer in it. Fabulous quality for the price, but sadly this is only available in Western Europe and the UK.
Julie G "Bikini": a neon fluorescent coral-pink. Can appear bright baby pink or glowy orange-pink depending on what lighting you're in. Easily the nail polish I get the most compliments on, worn both on my hands and feet. My boyfriend loves it the most as well. I've had this bottle for almost one year and I've had to thin it with nail polish thinner to extend its life as much as I can. Julie G is a YouTuber who started her own nail polish line and her line can be found at Rite Aid stores.
Zoya "Ali": a neon fuchsia that is fluorescent and grabs everyone's attention. Dries slightly duller and matte so definitely top with a glossy top coat like Seche Vite. If I don't know what to paint my nails, I usually default to this color. The photo above doesn't do this neon shade any justice.
Essie "Movers & Shakers": a medium creamy pink. Very wearable and easy to apply. Slightly thin, but two coats is my preference and three coats will give a totally opaque color. This was the first Essie nail polish I ever bought.
OPI "Chapel of Love": a medium pink polish with a fine gold shimmer through it. Very pretty and timeless. This was one of my first OPI shades and it was limited edition.
OPI "Shanghai Shimmer": a mauve pink with a complex silver green fine shimmer that runs through it. This is a great unique polish that isn't too loud. This color is also limited edition.
MAC "Snob": a creamy nude pink that matches the very popular MAC lipstick shade. Formula is on the thick side so I wait about 10 minutes between coats for best results. Contains no shimmer. This was a birthday gift from my sister since she knows I love the Snob lipstick so much. Thanks Caitlin!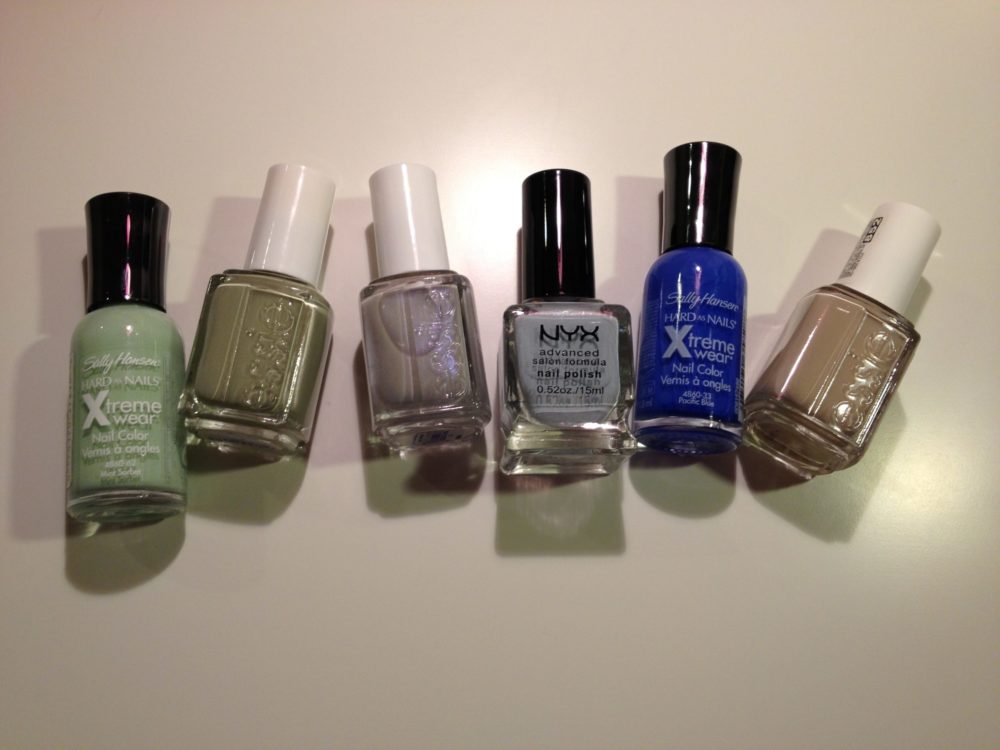 Left to Right: Sally Hansen Hard As Nails Xtreme Wear "Mint Sorbet", Essie "Da Bush", Essie "Main Squeeze", NYX "Pastel Blue", Sally Hansen Hard As Nails Xtreme Wear "Pacific Blue", Essie "Sand Tropez"
Sally Hansen Hard As Nails Xtreme Wear "Mint Sorbet": my favorite minty green polish. One coat is opaque, but can apply streaky so I recommend doing two thin coats for the best look. The color is pastel and bright; absolutely perfect for spring.
Essie "Da Bush": a dusty, mossy pistachio color. This is much more muted than a pastel green, but still has that minty quality to it. This is a fabulous color if you like neutrals, but sadly it is limited edition.
Essie "Main Squeeze": an iridescent lavender sheer polish with purple and blue shimmer. This can be used as a top coat to transform any nail polish you already own.
NYX "Pastel Blue": a true, opaque pastel blue color. Looks great in one coat and finished off with a glossy top coat. I also like topping this off with Essie "A Stroke of Brilliance".
Sally Hansen Hard As Nails Xtreme Wear "Pacific Blue": a vibrant cobalt blue that is absolutely stunning.  A color that makes your nails truly "pop." Constantly sold out at CVS, so good luck getting your hands on it. I searched for it for months.
Essie "Sand Tropez": a quintessential creamy nude with a gray undertone. Gives your hands a very clean look and is timelessly classic. Perfect for any time of the year.
Hear me talk about every single pick in the video below. And before you go, please tell me what's your favorite nail polish color for spring!
Don't forget to follow me on Instagram and Pose for weekly manicure photos.